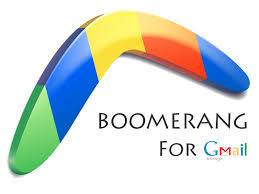 One great thing about working on your own is you decide on when you work. Sometimes that means working after the kids go to bed. Or maybe before they get up! But how do you send important emails at "off" office hours without compromising your work schedule? Meaning, I'm doing work at 7pm but I certainly don't want my clients to see that to give them the impression that they can contact me at 7pm! Or I'm working on the weekend, I don't want my clients to see me working on the weekend so they feel they can expect that out of me.
Insert yet another FREE feature from Google, Boomerang. You simply add the extension to your Chrome browser and boom. Schedule the email to go during business hours! On vacation but need to respond to someone? Boomerang can help. Want to look like a hero and send an email birthday or anniverary wish? Boom, Boomerang makes you look good again!
Want a cleaner inbox? Archive the message until you need it! Just boomerang it to come back on the day/time you want to read it or it needs attention. For example, you've registered for a conference happening that's 2 months away. Have Boomerang send your confirmation email an hour before the event. That way you don't have to search for your confirmation.
Have an important but not urgent email that you need to hear back from people? Have boomerang remind you if no one replies to the email! Take that conference you registered for. You asked the organizers about the your special dietary restrictions. It's 2 months away, you don't need an answer right now. But you should have an answer a week or two before the event so you can bring your own food if necessary.
Let me know what you think of Boomerang. Better yet, schedule an email to send me later!
Share or be square! I want to spread the word that being an entrepreneur doesn't mean you have to go broke or be a starving artist! I have helped countless businesses with these money saving tips and I decided to put them here, just for you, for FREE!
Cheers!!

Tired of DIY'ing it?
Schedule
a free 30 minute consult to find out how I can help you!